Written by Ann Kim and directed by Barry J Kelly the brand new (4th) episode of Star Trek Lower Decks –  'Moist Vessel' just aired on 27th August(another Thursday) by CBS and is now available on CTV Sci-fi and the streaming service Crave.
As the title suggests this episode focuses more on the emotions whirling between Captain Freeman and her daughter Ensign Mariner rather than just the sci-fi stuff. The below article contains the full story in detail so it's obvious to have lots of spoilers. Kindly beware of these spoilers.
A detailed story of 'Moist Vessel'
It starts with an intro of Ensign Mariner just yawning while Captain Freeman is explaining the primary storyline of the episode. We also see the appearance of another California-class starship the USS Mercy commanded by Captain Durango a Telerite. An enterprise style teluri, certainly been a while since we've seen them.
Now following the lower decks we see Captain Freeman and Ensign Mariner arguing in the ship's ready room. This is almost like a typical parent and child argument as it's kind of petty and the closing line is absolutely funny – "don't you give me that sarcastic vulgar salute".
Manson is giving the worst task on the starship such as lubing up the turbolifts and also removing the waste from the holodeck. This is all thanks to Commander Jack Ransom who informs Captain Freeman that in order to get her problematic daughter to request a transfer she should give her the worst task onboard the ship. This, as you can imagine, does not go down rather well but Ransom does get a funny moment with the Captain.
The side plot of Tendi
Meanwhile, Tendi is assigned to oversee an ascension which you will remark is similar to that of a traveler reference of a species seen within the Star Trek franchise before they possess god-like abilities that could be achieved through ascension. That's a bit of a stretch but they're kind of similar to what we perceive as an ascended being.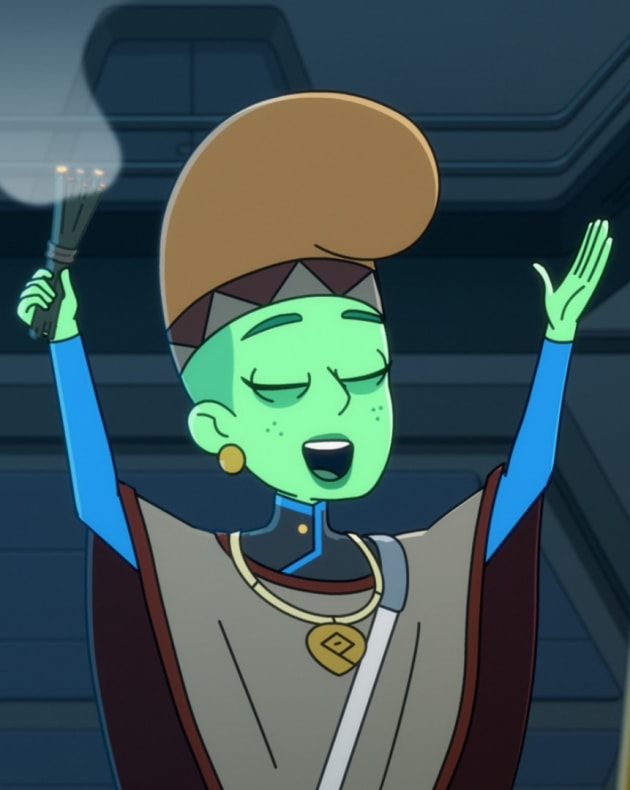 The whole little side plot of the ascension and Tendi's involvement isn't the most exciting thing in the world. But it does work. Nevertheless, a good side plot that complements the primary storyline of the two ships working together, towing homeless generation ships.
'Typical' Tendi is watching over the ascension but things take a turn when she accidentally upsets it. This is revealed to be a ruse as Lieutenant O'Connor is seeking, pretending that he's going to ascend.
The whole dynamic of this episode is a similar storyline as we've seen before in the series. Captain Freeman and her relationship with her daughter Ensign Mariner. Freeman's relationship with her daughter is relishing and finding fun in these boring tasks which of course isn't impressing the Captain who wants her troublesome daughter transferred off the ship. Commander Manson and Captain Freeman come up with an interesting plan of promoting Mariner so that she is involved in the things she hates – 'all the senior staff activities'.
Unhappy Mariner
Mariner isn't enjoying her new lifestyle as she's being dragged around what she perceives as boring tasks related to seniors. Captain Freeman is taking part in a talent show which isn't the most exciting thing to write home about. Things are not that interesting for Mariner as you can imagine. You would think that this is almost working as Mariner rolls off her bed so great. But there is a lack of enthusiasm she has for a new life.
In an attempt to outsmart Captain Freeman he moves the ship closer to the generation ship which causes all health to break loose. The ship starts leaking this type of matter which causes artificial life to be created on both of the federation starships through the use of terraforming. While everyone is running around wondering what to do in the crisis we see Ensign Mariner and Captain Freeman put their family differences aside somewhat and work together to get to environmental control to free the ship. Not only a mix of typical starting moments but also seeing character development for the two of them this is actually the first episode in Star Trek Lower Decks where Mariner calls Captain Freeman mum or is even willing to acknowledge their relationship.
Mariner showing that she knows what she's doing to Captain Freeman is a great mother and daughter situation. As you can see the Captain is clearly impressed by this.
This is essentially a continuation of the revelation of their relationship from the first episode – 'Second Contact'. It's a nice way to time that and keep the continuity of the series going so well.
Ending
And since Tendi's mission is still going badly, she drastically tries to find ways to help Lieutenant O'Connor's ascend. It's revealed during the shipboard crisis that O'Connor is a bit of a baddy. He lied about the ascension so that he'd get his attention. According to him, it's hard to rise up within Starfleet.
Back in the engineering Tendi blows a hole in the water to free herself and trap, Lieutenant O'Connor. He actually offers to sacrifice himself in order for her to survive as a terraforming resource. By the joint efforts of Captain Freeman and Mariner O'Connor actually starts to ascend into the future he dreamed of.
Captain Durango is luckily saved by Freeman and Mariner. He and his crew are beamed aboard the generation ship just in time but it's kind of funny as she does a mark on how she finds him annoying and boring multiple times throughout this episode alone.
The episode ends with the USS Cerritos and the generation ship being seen at a Starfleet space bay. Also, a funny circumstance leads Mariner to once again get demoted. Going back down to the rank of Ensign, she rejoins her friends in the lower decks of the starship. But with a little more mutual understanding from her mother.
Our Review
The whole episode is more about emotional drama than just sci-fi animation. It's a nice change in the storytelling style. Hope we get to see more of this. It is a fast-paced episode but really enjoyable at the same time. Some moments are really funny and some are quite interesting as are a few which aren't that good. But what stuck out as a good thing is the pacing of the episode alone. While watching you will get really immersed in the story and when it's over you feel like it just started.
Live long and prosper my friends.