Episode 2 of 'The Boys' is titled 'Proper Preparation and Planning'. This one starts with a Butcher flashback as he remembers the day he saw Becca. He didn't get the chance to talk to her because the Homelander presumably flew him away. Butcher went into a restaurant and wrote down everything he remembered. That's what we see here he wrote the wind's direction, the temperature, and so on and it seems like Butcher still doesn't know that Becca gave consent to the Homelander. He still doesn't realize that she cheated on him and he thinks that Vats is holding her captive. That's why he's still motivated to find and rescue her.
Lovebirds of The Boys: Butcher and Becca
It could also be the case that he knows Becca cheated on him but he still loves her and wants to save her. Either way whatever the case is it's enough to drive him forward. That's why he meets with Grace Mallory, the former CIA deputy director. We saw her in season one she was the one that directed Butcher to the Seven. A former member of the Seven called Lamplighter killed Mallory's grandchildren so that's the reason for her beef with him.
Now she has a hard time believing Butcher because she thinks that he blew up. Still well Butcher convinces her and she agrees to help find Becca in exchange for the smuggled super villain we saw in episode 1. The Boys get some intel that the supervillain is in a shop so they go there and find him but it turns out that he is Kimiko's brother and his name is Kenji. Butcher tries to incapacitate him but Hui stops him and Kenji uses his powers to get out of dodge with his sister.
Kimiko and Kenji
The conversation with Kimiko at the park was quite emotional. That was our favorite part of the episode. The actors playing Kimiko especially did an unbelievable job. You could sense the emotions running through her. She was so happy to reunite with her brother but then she realizes that Kenji was radicalized by the shining light army. That so after a superhero came into their town and killed everyone. That superhero splits an old woman in half and he lets babies burn alive in their crips. Because of this Kenji and Kimiko go head to head and Kimiko emerges victorious. Then the boys roll in with their van and put Kenji in it.
There's no saving him now. Butcher is probably gonna take him to Mallory. Also moments prior to this, Butcher told the boys about the time he saw Becca. So now they clearly know what Butcher is up to and because Hughie prevented Butcher from incapacitating Kenji at the store Butcher punches Hughie outside the van and tells him to never come between him and his misses again.
What's going on with Becca?
So let's check in on Butcher's misses Becca who is terrified of Homelander because he's trying to start a relationship with his son. We learned that Becca has kept the kid in a bubble. He's basically got nothing to do with the outside world and Homelander threatens that lifestyle. Becca pays Dr. Park a visit. He's their handler and she wants to know why Homelander is snooping around. She was assured that this would never happen. Dr. Park says that they don't want to antagonize Homelander and that he'll eventually get bored and move on. Becca is distressed and threatens to take the kid and run away but that is obviously not a real option.
Meanwhile, Homelander is snooping around in Becca's house and finds a picture of her with Butcher. This implies that she's still holding on to their memory which could make Homelander mad. Later on, Homelander has a conversation with his son and tells him the truth about his origin. He tells Ryan that he had no father or mother and that together they can do whatever they want and nobody can stop them. Homelander gives Ryan a phone so they can talk but Ryan is creeped out. The end of their conversation was quite sad and scary at the same time. Homelander told Ryan that he loved him and wanted Ryan to tell it back. Ryan did so but with a lack of enthusiasm. This is sad because Homelander wants to feel loved and it's scary because he can destroy anything and anybody that doesn't give him what he wants.
Homelander is dangerous!
Homelander lets Becca know that he knows about her conversation with Dr. Park. Homelander tells her that he won't get bored and move on. This just isn't gonna end well is it the boy is scared of Homelander and Becca is even more scared. Homelander is gonna go berserk at some point and hurt one or both of them. While all of this was going on, Starlight has been busy with her media tour alongside the newest member of the 7, Stormfront. Starlight appreciates Stormfront's honest approach towards the media but Stormfront thinks that Starlight is faking this appreciation.
A-Train arrives to cause a problem!
During one of the interviews A-Train comes out of nowhere and as he often does Starlight is bewildered. We saw A-Train in a coma in episode 1 and it turns out that Starlight visited him every single day. The guy that Starlight extorted in episode 1 brings her some compound V and a train thinks that he has caught her but Starlight puts the pouch in Stormfront's bag. So she's safe for now but later a train visits Starlight in her house and catches her with the compound V sample. He threatens to expose her with this and with what she did helping Hughie. But Starlight threatens him back with what he did to his girlfriend. She says you're bluffing and takes the compound back. They took a little time to get here but it was worth it. It was a nice side storyline.
We probably won't see this compound for a few episodes because we don't think she's decided what she's gonna do with it yet. Meanwhile, Queen Maeve's ex-girlfriend is hospitalized and during her visits, Maeve tells her that she is afraid of what Homelander could do to her if he ever found out about this relationship. Her bringing this up is not a good sign and she was already mad at Homelander for that plane incident. So Maeve could go rogue and become a problem for Homelander.
Patton Oswalt cameo in The Boys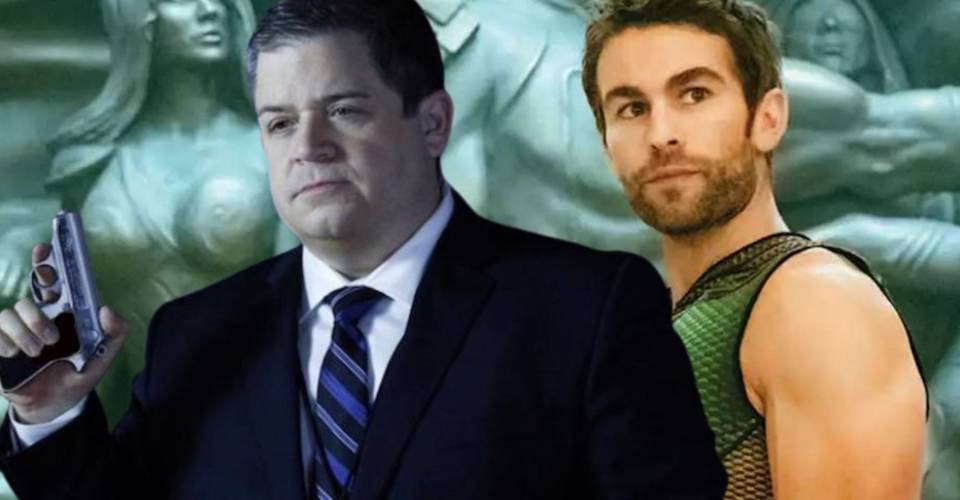 Patton Oswalt is playing as a voiceover artist for the gills on Deep's chest. And as per the director, this gill is actually a vagina, to be precise a 'magaina'.  He was good at his job but not so funny. We also had the Deep's body positivity trip. As his gills started talking he has finally accepted who he is and he's comfortable in his own skin. That's fine but we personally didn't find any of this funny or interesting. We wanted to skip forward and we've really had enough of the Deep's strictly personal journey.
Overall this episode doesn't go as per the title. But there were still some tense moments and some of the relationships are quite interesting. Butcher being back is great. We've missed his swearing. Becca's terrifying journey will be interesting to watch. Stormfront was good, we liked how she made fun of the girl power media tour. And Homelanders relationship with his son makes us really nervous. This episode of The Boys was an interesting one.
Read more….. –
BTK: CHASING A SERIAL KILLER – A THREE-PART DOCUMENTARY'S REVIEW
MULAN REMAKE RELEASING ON DISNEY PLUS THIS WEEK