"Armed with only one word–Tenet–and fighting for the survival of the entire world, the Protagonist journeys through a twilight world of international espionage on a mission that will unfold in something beyond real-time."
Not time travel. Inversion.
Basic Plot of TENET
JD Washington plays the protagonist, a CIA agent who gets recruited to a special branch who are trying to prevent world war 3. This all because someone is inverting the physics of certain objects which could have disastrous effects. We can go into more detail than that. But without spoiling it we will say in the beginning this movie is a little tough to wrap your head around but once you do it's also really really great. The word TENET itself is a palindrome which means it's the same backward as forwards but it also means a principle of belief and that is basically what the entire plot revolves around.
5 years for TENET
Nolan took quite five years to write down the screenplay after deliberating about Tenet's central ideas for over a decade. Casting began in March 2019, and principal photography happened in Denmark, Estonia, India, Italy, Norway, the UK, and the US, starting in May 2019. Cinematographer Hoyte van Hoytema shot on 70 mm and IMAX.
Excellent Performance
It has everything to do with who is inverting objects and why. Which we can't tell you without spoiling. What we can tell you is that Kenneth Branagh's character is working for them. He's an excellent spy movie villain. We almost wish he played a bond villain opposite Daniel Craig but every actor in this film is great. JD Washington is really badass. Robert Pattinson is charming and this was the best performance of Elizabeth Debicki we've seen so far.
Nothing is fake in TENET
One of the great things we love about Chris Nolan is that he hates fake-looking action scenes. So every stunt you see is on the camera which is impressive and super expensive. The set pieces in this movie are massive and beautiful whether it's a giant shootout at an opera house, a plane crashing into a building, or shooting catamarans flying across the ocean. Everything looks spectacular mostly thanks to the director of photography Hoyte van Hoytema. He's one of the best, we would argue he's probably right up there with Roger Deakins. The action is equally mind-blowing especially because cause and effect are inverted. You'll see things you've never seen in a film before. Even the soundtrack which is awesome by the way is sometimes backward so in that regard, this movie is really unique but it can also be a little chaotic.
It's not a one time watch
There's quite a lot of exposition in the first half-hour of the movie and you don't really get time to process this information because there's so much happening and it moves pretty quickly. So this is definitely a movie that most people would want to see more than once. The most impressive parts for us were the moments with the so-called temporal pincer moves. Again we are not spoiling anything but it's pretty amazing to watch and difficult to understand.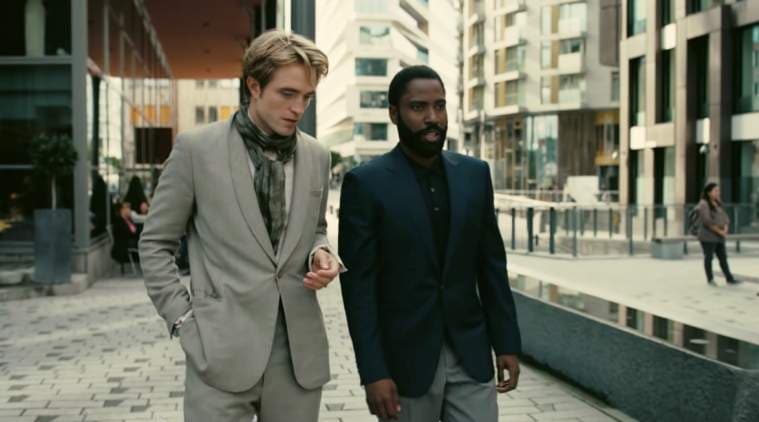 But there are some little tiny details that don't make a lot of sense like JD and Robert Pattinson planning an attack in public transport. They are talking out loud about guns and taking out security and stuff. We mean should you really be doing this on a bus with witnesses. We know it's a minor detail and it doesn't affect the plot at all but don't know we just noticed that kind of stuff but we loved this film. Especially because it's different and in the end that's what we love about movies. We want to be surprised and we definitely were.
Audience Review
"It's a shiny clockwork contraption with a hollow center: a convoluted Rubik's Cube blockbuster that, once solved, reveals little more than the complexity of its own design." – A viewer said. Another one said – "Telling a story backward sounds bizarre – it is bizarre – but it works. The backward stuff in "Tenet" sounds bizarre – worse than bizarre, goofy – and for a while, it works. But once it doesn't, it really doesn't. It is Both utterly dazzling and increasingly bewildering."
"Basically, it's a James Bond film with a bachelor's degree in physics. And it has the decency to be an extremely good James Bond film, on top of it. Nolan has finally zoomed out so far with a story that fundamentals of physics have themselves become character motivations." Another viewer said this.
Tenet pretty much has theaters all to itself through the month of September until Warner Bros. challenges itself directly with Wonder Woman 1984 on October 2. Let us see how far this movie can go. It's a mind-bender.
Info
Rating: PG-13 (for violence and intense action)
Genre: Action & Adventure, Drama, Mystery & Suspense, Science Fiction & Fantasy
Directed By: Christopher Nolan
Written By: Christopher Nolan
In Theaters: Sep 3, 2020
Studio: Warner Bros. Pictures
Main Cast – John David Washington as Protagonist, Robert Pattinson as Neil, Elizabeth Debicki as Kat, Dimple Kapadia as Priya, Aaron Taylor-Johnson as Ives, Himesh Patel as Mahir
Nolan's behind-the-scenes creative team – director of photography Hoyte van Hoytema, production designer Nathan Crowley, editor Jennifer Lame, costume designer Jeffrey Kurland, visual effects supervisor Andrew Jackson, and special effects supervisor Scott Fisher. The score is composed by Ludwig Göransson.
Read more…… –
LETHAL WHITE EPISODE 3 – COMPLETE ANALYSIS
THE BOYS: S02 E02 RECAP WITH PATTON OSWALT'S CAMEO
BTK: CHASING A SERIAL KILLER – A THREE-PART DOCUMENTARY'S REVIEW